Department of Electrical & Electronics Engineering
Department of Electrical & Electronics Engineering
Department of Electrical & Electronics Engineering
Diploma in Electrical & Electronics Engineering is a three years program generally deals with thestudyandapplicationofelectricity,electronics and electro magnetism.
The Department of Electrical and Electronics Engineering was established in the year 2018. Thedepartmentoffers diploma program with an intake of 60 students. To update with the recent trendsand developments in the field of Electrical and Electronics Engineering, the department takes up theinitiative to conduct various seminars, add on courses and workshops, with experts from reputedinstitutionsandindustries.
The students are also provided skill development courses like Industrial Automation, EV Powertrain,etc tobridgethe gapbetweenacademicsandindustry.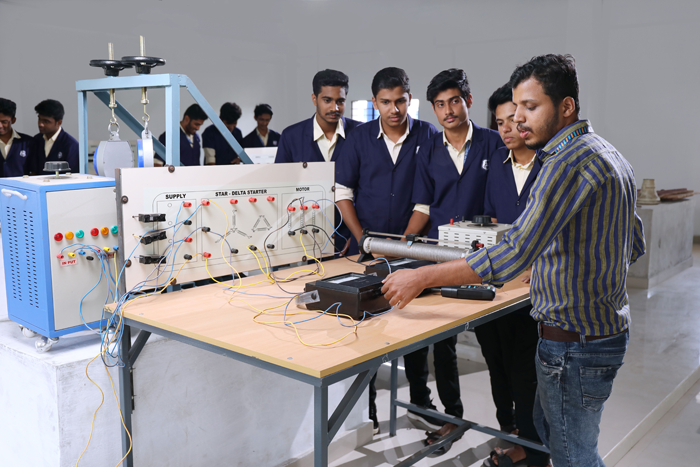 Our
Vision
To become a prime department in bringing out globally competent electrical and electronics engineers, innovators, and entrepreneurs with social commitment and ethical values.
Our
Mission
To provide state-of-the-art resources that contributes to achieve excellence in technical education.
To bridge the gap between industry and academia by providing skill development courses based on industrial and societal needs beyond regular academics.
To instill ethical and environmental awareness, managerial skills and lifelong learning attitude in students.
PROGRAMME SPECIFIC OUTCOMES
PSO1: The students will be able to apply acquired skills in the field of power generation, transmission, distribution, power electronics, utilization and estimation and costing.
PSO2: The students will be able to make use of the acquiredtechnicalknowledgetogetemployedinthefieldofElectricaland Electronics Engineering and also to become successful entrepreneurs.
PSO3: The students will be able to demonstrate professional skills and leadership to work in multidisciplinary teams, with good communication abilities and ethical values.
PROGRAM EDUCATIONAL OBJECTIVES
PEO1: The students will be able to apply knowledge in Basic sciences and Engineering to provide solutions to Electrical and Electronics Engineering problems in the industry/higher studies.
PEO 2: The students will be able to comprehend, analyze, design, and develop innovative systems with constantly evolving technologies by updating their skills.
PEO 3: The students will be able to work as a team with a sense of leadership qualities, effective communication skills, ethics, and professionalism for the welfare of society.
Program Outcomes (
Pos

)

PO1: PO1: Basic and Discipline specific knowledge: Apply knowledge of basic mathematics, science and engineering fundamentals and engineering specialization to solve the engineering problems.
PO2: Problem analysis: Identify and analyze well-defined engineering problems using codified standard methods.
PO3: Design/ development of solutions: Design solutions for well-defined technical problems and assist with the design of systems components or processes to meet specified needs.
PO4: Engineering Tools, Experimentation and Testing: Apply modern engineering tools and appropriate technique to conduct standard tests and measurements
PO5: Engineering practices for society, sustainability and environment: Apply appropriate technology in context of society, sustainability, environment and ethical practices.
PO6: Project Management: Use engineering management principles individually, as a team member or a leader to manage projects and effectively communicate about well-defined engineering activities.
PO7: Life-long learning: Ability to analyze individual needs and engage in updating in the context of technological changes.
| Sl.No | Name | Designation |
| --- | --- | --- |
| 1. | Ms. Remya M N | HOD |
| 2. | Ms. Ragitha R | LECTURER |
| 3. | Ms. Deethumol Augustin | LECTURER |
| 4. | Ms. Shenu S | LECTURER |
| 5. | Mr.Arun Sasidharan | LECTURER |
| 6. | Mr. Lijosh Mathews | LECTURER |
| 7. | Mr. Jithin Babu | LECTURER |
Address
Dept. of Electrical and Electronics Engineering
Email
hodeeegit2018@gmail.com
Website
http://gitgroup.ac.in