Department of Civil Engineering
Civil Engineering Diploma is a 3-year course that basically focuses on planning, designing, execution and the maintenance of bridges, buildings, roads, etc. It is a basic course that a student can choose after completing class 10th study and further go for higher education. A career after civil engineering is highly beneficial. The career opportunities include supervision, construction, design, and analysis of private as well as public projects. The profession demands excellent skills for both the administration and supervision of projects.
The Department of Civil Engineering was established in the year 2017. The department offers diploma program with an intake of 60 students. To be in line with the fast-moving world,innovations and developments in the field of construction, the department takes initiative in organizing various seminars, add on courses and workshops by industrial experts and others who are well established in this arena.
To polish our students, we provide a finishing school training at NAC, Hyderabad with 100% placement assistance.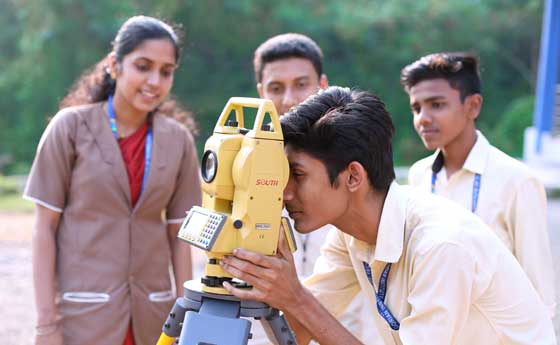 Our
Vision
To become a center of excellence in Civil Engineering that produces socially committed and technically competent civil engineers with entrepreneurial skills and social values to meet the future industry demands.
Our
Mission
To mould our students to become competent civil engineers of high calibre, technical skills and ethical values to serve society.
To mentor students for innovative thinking with relevance to entrepreneurship.
To build creative thinking in sustainable and green principles to face the challenges of the future.
To conduct regular interaction with industries to expose students to current industrial practices.
PSOs
PSO1: Students will be able to apply Basic Civil Engineering knowledge in creating innovative designs and fostering sustainable development.
PSO2: Students will be able to design stable structures and systematic planning at optimal cost with specified tools and techniques.
PSO3: Students will be able to achieve lifelong learning and professional development to focus on emerging needs of society.
PEO'S
PEO1: Students will be able to become professional civil engineers with technical skills and ethical values who can work in a team for the betterment of society.
PEO 2: Students will be able to excel in their professional life or entrepreneurship by finding solutions to challenging tasks through critical and creative thinking in a sustainable manner.
PEO 3: Students will be able to work in both inter and intra disciplinary endeavors in industries for the welfare of society.
Program Outcomes (
Pos

)

PO1: Basic and Discipline specific knowledge: Apply knowledge of basic mathematics, science and engineering fundamentals and engineering specialization to solve the engineering problems.
PO2: Problem analysis: Identify and analyze well-defined engineering problems using codified standard methods.
PO3: Design/ development of solutions: Design solutions for well-defined technical problems and assist with the design of systems components or processes to meet specified needs.
PO4: Engineering Tools, Experimentation and Testing: Apply modern engineering tools and appropriate technique to conduct standard tests and measurements
PO5: Engineering practices for society, sustainability and environment: Apply appropriate technology in context of society, sustainability, environment and ethical practices.
PO6: Project Management: Use engineering management principles individually, as a team member or a leader to manage projects and effectively communicate about well-defined engineering activities.
PO7: Life-long learning: Ability to analyze individual needs and engage in updating in the context of technological changes.
| Sl.No | Name | Designation |
| --- | --- | --- |
| 1. | Mr. Kishore Kumar | LECTURER |
| 2. | Mr. Biju C Thomas | LECTURER |
| 3. | Mrs. Anantha Lekshmi M L | LECTURER |
| 4. | Ms. Akhila Merin Thomas | LECTURER |
| 5. | Ms. Aswathi Aravind | LECTURER |
| 6. | Mrs Shaiby Kuruvilla | LECTURER |
| 7. | Ms. Litty Sebastian | LECTURER |
| 8. | Ms. Asha Anil | LECTURER |
| 9. | Ms. Arya Mol | LECTURER |
Address
Kangazha, Kottayam
Email
hodcegit2018@gmail.com
Website
http://gitgroup.ac.in