Department of Automobile Engineering
Diploma in Automobile Engineering is a three years course, which is designed to help students gain basic knowledge and skills required by a professional working in the automobile industry. It is a basic course that a student can choose after completing class 10th study and further go for higher education. During the course, the candidate gets a chance to explore skills like installation, maintenance and problems associated with the automobile, its devices and equipment.
The Department of Automobile Engineering was established in the year 2018. The department offers diploma program with an intake of 60 students. To update with the recent trends and developments in the field of Automobile engineering, the department takes up the initiative to conduct various seminars, add on courses and workshops, with experts from reputed institutions and industries.
The students are also provided skill development courses like Two wheeler technician, Four wheeler technician, Electric Vehicle technician, Service Advisor etc in each semester to bridge the gap between academics and industry. Our students are placed in reputed companies like Toyota, Skoda, Kia, bharatbenz, TVS, Volkswagen etc.The department is enriched with Automobile Lab fully equipped for Automobile service and maintenance requirements with wheel balancing, wheel alignment, automated tyre changer etc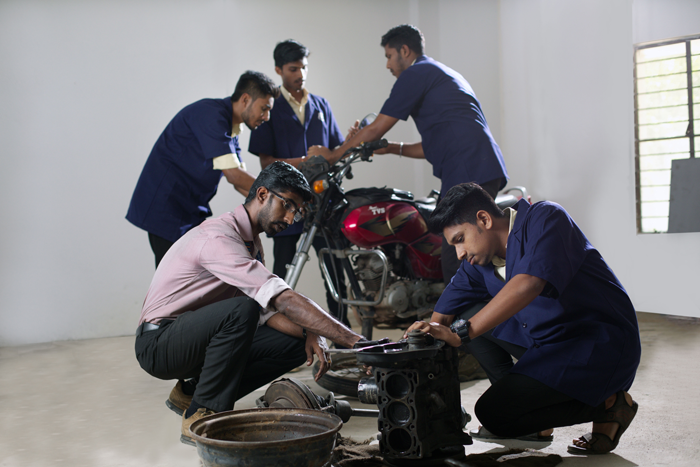 Our
Vision
To be a pioneer in Automobile engineering, contributing to automotive design and technologies for developing socially responsible automobile engineers.
Our
Mission
To provide deep knowledge in automobile engineering to address the concerns relating to the sustainable environment.
To maintain active interaction with alumni and the partnership industry.
To instill ethics, social responsibility, and moral values through personality development programs and encourages life-long learning.
PROGRAMME SPECIFIC OUTCOMES
PSO1: Students will be able to apply the scientific principles and technical knowledge in design, manufacturing and maintenance of automobiles.
PSO2: Students will be able to perform the acquired skills in the technical field including hybrid and green technologies.
PSO3: Students will be able to make use of automotive equipments for diagnose and maintenance of various automotive system.
PROGRAM EDUCATIONAL OBJECTIVES
PEO 1: Students will be able to use their technical skills to the generation and implementation of new ideas or products in the automotive industry or in pursuit of research studies.
PEO 2: Students will be able to work well in local and global automotive environments and will have the ability to be effective in automobile design.
PEO 3: Students will be able to understand and practice professional, ethical, environmental, and global responsibilities and follow these precepts in their daily activities.
Program Outcomes (
Pos

)

PO1: Basic and Discipline specific knowledge: Apply knowledge of basic mathematics, science and engineering fundamentals and engineering specialization to solve the engineering problems.
PO2: Problem analysis: Identify and analyze well-defined engineering problems using codified standard methods.
PO3: Design/ development of solutions: Design solutions for well-defined technical problems and assist with the design of systems components or processes to meet specified needs.
PO4: Engineering Tools, Experimentation and Testing: Apply modern engineering tools and appropriate technique to conduct standard tests and measurements
PO5: Engineering practices for society, sustainability and environment: Apply appropriate technology in context of society, sustainability, environment and ethical practices.
PO6: Project Management: Use engineering management principles individually, as a team member or a leader to manage projects and effectively communicate about well-defined engineering activities.
PO7: Life-long learning: Ability to analyze individual needs and engage in updating in the context of technological changes.
| Sl.No | Name | Designation |
| --- | --- | --- |
| 1. | Mr. Brijesh.K.J | HOD |
| 2. | Mr.Mohammad Roshan | LECTURER |
| 3. | Ms.Anupama.C.Raj | LECTURER |
| 4. | Mr. Ratheesh Gopi | LECTURER |
| 5. | Mr.Balu Vinod | LECTURER |
| 6. | Mr.Subin Saji | LECTURER |
Address
Kangazha, Kottayam
Email
hodaugit2018@gmail.com
Website
http://gitgroup.ac.in