Diploma in Mechanical Engineering
Diploma in Mechanical engineering is a discipline of engineering that applies the principles of physics and material science for analysis, design, manufacturing, and maintenance of mechanical systems. Here students learn about the techniques and technologies involved in the industry with special emphasis on motors, structures, control plants, vehicles, etc. The course will also give aspirants a deeper understanding of concepts such as mechanics, kinetics, hydraulics, energy and vitality.
At GIT Polytechnic, students are given the opportunity to sharpen their skills and understanding of the domain through several co-curricular activities, department Courses and add-on courses. We conduct regular industrial visits and seminars with prominent industry figures as resource personals. Diploma holders can work in the many industries that require the services of mechanical engineering, this includes robotics, automobile, aerospace, etc.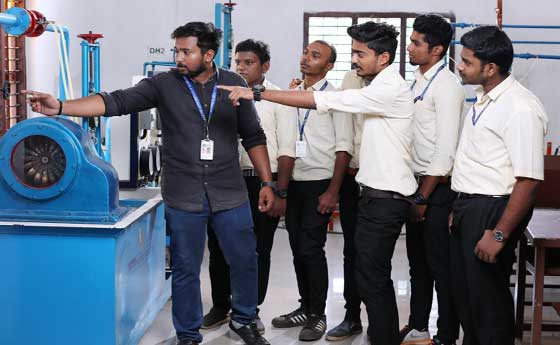 Our
Vision
To be a Center of excellence in mechanical engineering and to produce globally competent Mechanical Engineers with entrepreneurial and social skills.
Our
Mission
To provide high-quality education through demanding and comprehensive value addition programs.
To provide innovative, creative, and practical learning programs beyond the curriculum.
To mold young and creative minds to emerge as vibrant and thriving professionals with social commitment & ethical values.
PROGRAMME SPECIFIC OUTCOMES
PSO 1: Apply the knowledge of production, manufacturing, and industrial engineering for analysis, optimization and development of mechanical systems.
PSO 2: Analyze, interpret and provide solutions to real life mechanical engineering related problems.
PSO 3: Demonstrate professional leadership and skills to work in multidisciplinary teams, with good communication abilities and ethical values
PROGRAM EDUCATIONAL OBJECTIVES
PEO 1: Students will be able to undertake the challenges in the development in the mechanical field with new tools and technology to enhance industrial and social needs
PEO 2: Students will be able to identify problems, analyze, interpret, design formulate and provide solutions to the real life mechanical field and related problems.
PEO 3: Students will be able to work in multidisciplinary teams, with good Communication skills, ethical values, and critical leadership skills.
Program Outcomes (
Pos

)

PO1: Basic and Discipline specific knowledge: Apply knowledge of basic mathematics, science and engineering fundamentals and engineering specialization to solve the engineering problems.
PO2: Problem analysis: Identify and analyze well-defined engineering problems using codified standard methods.
PO3: Design/ development of solutions: Design solutions for well-defined technical problems and assist with the design of systems components or processes to meet specified needs.
PO4: Engineering Tools, Experimentation and Testing: Apply modern engineering tools and appropriate technique to conduct standard tests and measurements
PO5: Engineering practices for society, sustainability and environment: Apply appropriate technology in context of society, sustainability, environment and ethical practices.
PO6: Project Management: Use engineering management principles individually, as a team member or a leader to manage projects and effectively communicate about well-defined engineering activities.
PO7: Life-long learning: Ability to analyze individual needs and engage in updating in the context of technological changes.
| Sl.No | Name | Designation |
| --- | --- | --- |
| 1. | Mr. JOSEPH. JOHN | HoD |
| 2. | Mr. VISHNU SANKAR | LECTURER |
| 3. | Mr. ARUN BABU | LECTURER |
| 4. | Mr. ANSARI. P. A | Vice Principal |
| 5. | Mr. ANANDHA KRISHNAN K M | LECTURER |
| 6. | Mr. Jayasankar P | LECTURER |
| 7. | Ms. Ann Maria Susan | LECTURER |
| 8. | Mr. Sandeep V Sabu | LECTURER |
| Sl.No | Academic Year | Name of the Event | Date | No. of Beneficiaries |
| --- | --- | --- | --- | --- |
| 1. | 2022-23 | Orientation Program | 27/10/2022 | 32 |
| 2. | 2022-23 | Industrial visit- HMT Machine Tools Ltd | 19/11/2022 | 64 |
| 3. | 2022-23 | Industrial visit- Kerala Agro Machinery Corporation Limited | 16/12/22 | 32 |
| 4. | 2022-23 | Guest Lecture on Significance of Energy conservation and impact of renewable energy | 21/01/2023 | 62 |
| 5. | 2022-23 | Industrial visit- Pilotsmith (India) Pvt. Ltd. Kallettumkara | 25/02/2023 | 32 |
| 6. | 2022-23 | Industrial visit- KSEB Pallivasal Power Station | 09/03/2023 | 64 |
| 7. | 2022-23 | Industrial visit- Minar Casting kanjikode | 25/04/2023 | 39 |
| 8. | 2021-22 | Workshop on casting technology | 08/12/2021 | 32 |
| 9. | 2021-22 | Seminar on CNC milling and turning | 06/01/2022 | 61 |
| 10. | 2021-22 | Seminar on Advanced production process. | 02/02/2022 | 58 |
| 11. | 2021-22 | Industrial visit- Kerala Automobiles Limited | 09/04/2022 | 34 |
| 12. | 2021-22 | Industrial visit- HMT Machine Tools Ltd | 04/06/2022 | 50 |
| 13. | 2021-22 | Technical Fest, CHORUS 2K22 | 01/09/2022 | 119 |
| 14. | 2020-21 | Webinar on Product development | 27/11/2020 | 58 |
| 15. | 2020-21 | Webinar on Non Conventional energy sources | 04/12/2020 | 54 |
| 16. | 2020-21 | Webinar on Advanced production process | 08/01/2021 | 57 |
| 17. | 2020-21 | Webinar on Refrigeration and air conditioning | 18/02/2021 | 55 |
| 18. | 2020-21 | Webinar on Quality control and inspection | 18/03/2021 | 54 |
As per the details already given for SAR/NBA (2019 – 2023, academic year wise)
Address
Mechanical Department
Email
hodmegit2018@gmail.com